Meet Ashley, my first paper doll creation. You can download and print this paper doll set for free here.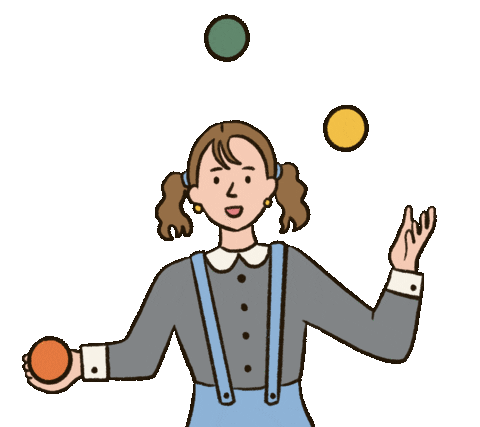 This is Ashley.
She is the juggler gif sticker you see when you visit my website homepage. She hasn't had a name until very recently when I decided to turn her into a paper doll. The name Ashley just stuck with me the whole time I was drawing her. So there she is.
With technology being so advanced these days, I don't think many people play paper dolls anymore. When I was little, I used to set aside my pocket money to buy dress up paper dolls and collect many different characters and outfits.
Creating Ashley was just too much fun! It took few attempts of trial and error to make sure the clothes are all a good fit and hang nicely to the main body but I like how it turned out in the end.
I used Cricut machine to help me cut out the items faster but you could definitely cut it by hand. All you need is just a pair of sharp scissors and steady hands.
If you look closely, some of the Ashleys above aren't cut nicely because they are part of the trial and errors.
After few rounds of edits, I made the final version and prepared the printable files for you to download. Simply print and cut the file to play with Ashley. For best result, use white cardstock paper or print on regular paper and stick it to cardstock or magnet paper.
My freebies also include the black and white printable. So if you are feeling creative, you can download the colouring page version and use your imagination to design and colour Ashley and her clothes however you like it!
Download Ashley's Wardrobe paper doll here
Love love.
Carolynn